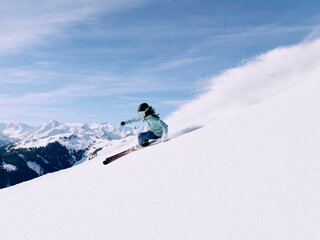 INTERSPORT Bachler Ramsau
Your sports specialist in Ramsau
INTERSPORT Bachler Ramsau is a family business with close ties to the local area. Sport is our passion and that shines through when we're renting out, servicing and selling sports equipment. We love staying active in the great outdoors ourselves, so we know exactly what our customers want and need.
Ski rental
Winter was made for whizzing down the slopes and exploring the snowy white scenery on a cross-country ski run. Our ski rental shop is filled with the alpine skis and cross-country skis you need to set off on unforgettable winter adventures.
Book online
so you can start your adventure sooner
You can book all the equipment you need at home. When you arrive for your winter adventures, you just need to pop into the shop to collect the equipment you booked. This will save you time, and you will get faster on the mountains.
E-bike rental
Whether you're planning a leisurely bike ride or aiming to cover as much distance and altitude as possible, Ramsau am Dachstein is a dream come true for any cyclist. Rent an e-bike from our shop for your next adventure on two wheels.